Hello everybody~!
How was your long weekend? 😉
I had a beautiful start to it!
How beautiful?
This Beautiful: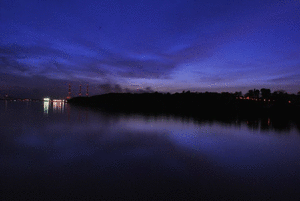 Hee Hee…
nice hor?
*幸福! 幸福! 幸福!*
😀
That was taken on the 7th of Aug 2010
woke up at about 4.36am if I didnt remember wrongly.
Had a non-routine incident the night before, hence couldnt really sleep well,
Kind of like once I wake up then cant fall back to sleep le.
so told myself. Why not go and shoot 🙂
Dont really see myself planning for such sunrise shoot in the near future.
So got out of bed, strap on the tripod and went on my way.
Started with the usual scene for long exposure:
This was at 5:40am

Really just took my own sweet time, cos aiya, sun rise wont be that soon aint it?
Used the compass on Marilyn, check for direction… hmm…
oki, so the sun will raise behind this row of trees.


(took this back in May 30th)
I remembered theres a platform, I can shoot from there, should have good view.

Correct, good view… but hor… it was at night… so u see all the lampost… esp those 2 in-front..
O_O GONE! no more sunrise. the whole picture will be overexposed. 😀
so went back down to the jetty stretch.


nothing to do, so play lo. This was at 5:43am
took plenty of long exposure, positioning and this and that


This was the best that I could get to give the feel ba. 🙂 *while in pitch darkness*

This was one of those on P mode, didnt realize it was going on long exposure mode as well. 🙂 moved, hence u see the stretch in the lightings. But I love the feel of it.
and the rest, I can only say is history 🙂
Good morning Singapore!


Happy Birthday to you!
Click on over to: http://www.flickr.com/avnjl for better quality ones ba 😉
My current wallpaper:

thanks for coming by~
Be Bless
Love,
Amanda
P/S: Click: http://www.avnjl.com/?page_id=1417 to find out how to go and read my past entry on waterfront 😉