I'm not a particular fan of Cookies, because its basically all flour and sugar. Carbs, carbs and sugar.
BUT!
😀
The other time, my property agent came with his peeps and ingredients for 4 grand burger. Guess what got left behind.
Yup… Butter….. or Margarine I think. that yellow block of processed milk and whatever that is in it.
and then there was that half used pack of flour from the Home Econs class I was conducting
and raisins and walnuts that I bought sometime about as snack and as add-on for lunch salad.
VoaLA! the ingredients required for a cookie treat!
Oh, no egg or sugar or vanilla essence though.
and… that 3 packs of milo powder thats due next month.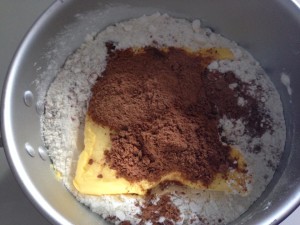 I know… I didnt sieve the flour..