Shoess.. My Nemesis…
At the right shop,  they cost me over $170 in less than 20mins.
Shoes… the right one, they help me float with poise and humanity on the street. They grab attention, they lift me up, they prance like everyday is a celebration.
Shoes… the right one and they take you to everywhere you go. Not like a duck or a marching band, but a nimble lady, gracing the public with your presence.
Shoes…
Thought I should start an album since they deserve that attention. Being a teacher doesnt take away my desire for pretty shoes. I still believe I can wear heels and maintain that poise though I have to stand for a couple of hours each day. So heres some beautiful ones to share.  Share yours if they are donned differently~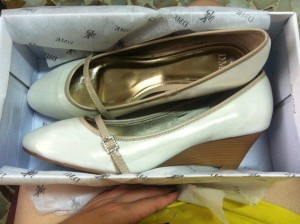 These whites are so Cinderella… (in other sense of "Cinderella" that is, not the glass slipper)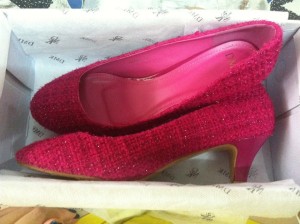 These fuchsia is insane, but well, whats a little colour right? 😉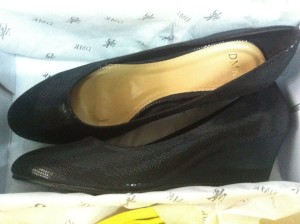 The very versatile black. Needs no introduction. Not a big fan of wedge, but well, this height is good for teaching, and why not since wedge is good support?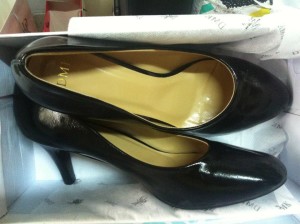 Perhaps can be used for teaching, 🙂 These versatile blacks, they are for all occasion. A little dressy for the nearby mall? A little height but not too high, for the town window shopping? A little formality for the formal occasion. Its all it. *thumbs up!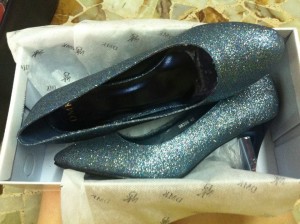 This is insane! Its so glittery, but, its fine, thats what shoes are for, so when the audience look from the bottom up. You've already scored! Yes I do have blue dresses. and they go well even with black 3/4s! 😀
Ladies and gentleman, this needs no further talk. 🙂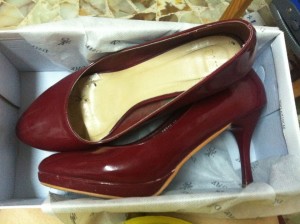 This is an old enough pair. I love its red (oxblood, as listed) but its subtle. Its presence and persona all in one.
Confidence is more than what people perceived of you. Confidence is what you present to people.
I had a dilemma…
Bought these 2 fabulous looking shoes, and I want to use them as soon as I can. I bought them.. I believe in Sept or Oct. Its never a wise idea to keep shoes for too long. >_<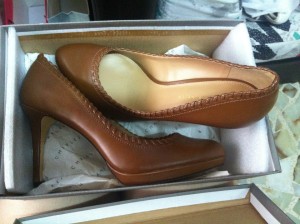 I love the leather wanna be look. Its chic and the height is just right. The details of the rims. *sluRP! BUY. If it fits, BUY!
and then theres this pair of wedge.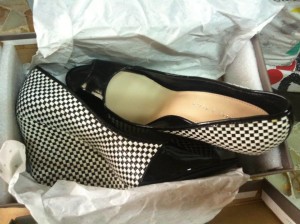 When was the last time you see checkers on height? Checkers are so casual, so youthful, like a child skipping steps as he walks. But its in height. Its classy, its a ladies' shoes.
So theres this Chanel's Little Black Jacket exhibition that I wanted to go for. I wanted to decide on which one of these 2 shoes to go with the dress… Although the answer is obvious… 😀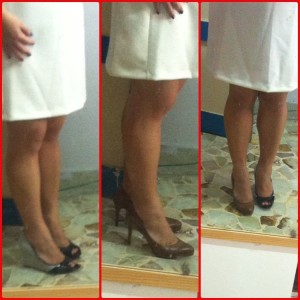 and in the end…
tADA!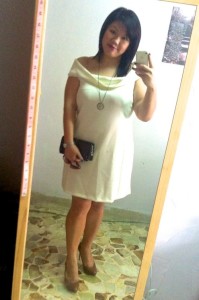 Now it raises the question: What do I match the wedge with???
3/4 pants? The heels look better 🙁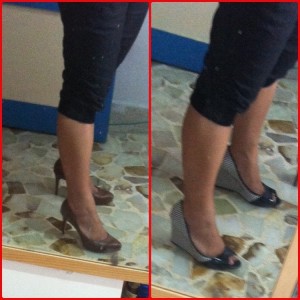 Jeans skirt? Not a bad idea…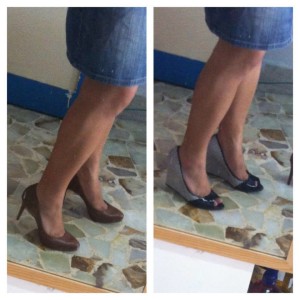 We'll see…
thanks for coming by
Be Bless
Love,
Amanda
P/S: I think the dress, though it looks great, needs tapering… no waist line, no hips. :/