SO this video on Ted about hacking into online dating.
😀
Please view it if you hadn't, its interesting. Having been on dating sites long enough, I could fully comprehend her points and entirely agree to her research.
So the other time, during Valentines day, I posted this: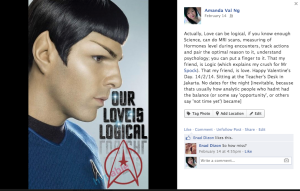 and to this day, I still agree to it. and what we look for is that (we)deemed worthy guy to partner that on.
Reminds me of this experiment I put myself into the past months.
I abstain. I walked away. I chose.
and obviously the body isn't coping well. there were bouts of topsy turvy. the insane mood swings that (I thought) chocolates can solve. the need. THE NEED.
Its not loneliness, because loneliness can be solved by interacting with people close to your heart, or hanging out with friends. I have plenty of female colleagues and attention I tell you.
So conclusion. It was members of the male species… I wanted attention from guys.
Ladies and Gentleman, its the libido at play…
We can't run away from it… its primitive…
I guess the point is, it is not abnormal to crave attention and interaction from the male species.
While I feel that the culture norm treats its as abnormal or being "too-open" to openly seek responds from the male species, I think that stigma.
I say *aloha* to culture norms.
Thanks for coming by
Be Bless
Love,
Amanda