It's been a season of head-over-heels, back-breaking, sleep-deprived, responsibilities-overload, Ridiculous-complaints, but patience-growing, body-understanding, spine-alignment, better-health and death-defying season.
😀 damn drama, this Amanda.
Seriously, these words cannot even begin to describe what I have gone through these 2 months.
Started with the chiropractic treatment, turns out I have non-textbook categorized scoliosis (basically it's not so bad that it cld categorize as that, but neither is it so mild that it's negligible), I have 2 2nd phase degeneration (takes over 10yrs to develop) (a bit too young for that) misalignment in the spinal area between my shoulder blades and lower back (think slipped disc). my neck is a little too straight for my own good.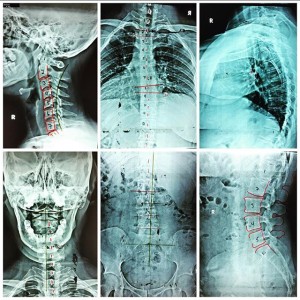 That means, I need to stop wearing heels so that the 50yrs old will thank me. need to go for adjustment 3 times a week for first 3mths n whatever follows follows, which amounts to nerve hyper-sensitivity, which I felt caused the REM images to be so vivid, and light sleep becomes consciousness (for the past 2 months). I have no life, n as a form of therapy, the heart wld induce the body to cook (for others) therefore further reducing rest time (cooking! the marketing, the cleaning, the smell.. heavenly but not good for a open concept studio, at the same time)
on and we top it up with demands at work. well, everyone faces them. except that this happen to be a real tight semester w Prefects training n investiture at the same season. did I mention about how effective and on time some Indonesian ppl are? but well, the training went fine, the investiture was over, many thanks to great people that are involved.
the usually don't come at all PMS hormones swing that is regulating and therefore pretty on-the-ball these 2mths? nobody likes to deal with hyper-happiness in the mind on 1 day (bcos the events for that day went well, PRAISE THE LORD!) and tearing the next bcos the family members n loved ones of the finalist for master chef came n visit (so touching! u know! family support! how long have they not seen each other and how much it meant to them. … )
oh, did I mention the still-unknown cause of the inflammation/rash at the back of the left knee, thigh? cld have been the seats of the flight, or attack frm "tomcat" insect, known to have caused death, w poison 12 times more potent than snake bites.  the traumatizing effects of seeing a muscular, well-sculpt female leg (nice thigh n calves btw) plague with a bigger than palm-sized, ugly, red-black-peeling-dark grey patch. yes, I absolutely love my legs. but praise the Lord, besides the discoloration it's not giving me any problems now.
all these…
and frequent flying, of 6 times in that 2 months. I really don't like flying, but I've found ways to cope w it.
What doesn't kill you makes you stronger.
Wanted to do the Serenity Prayer for the longest time. set it as my wallpaper.
I knew that the thigh is pretty much the only reasonable space for the next tattoo.
didnt get around to doing it bcos I was thinking, next time cellulite develops, it will look bad..
with that patch, forget it man, there's no uglier thing that could happen to my legs. so there we are!


even had a whole dilemma to put leopard or not, same, it's something I wanted. but obviously didn't happen.
it's the term break, since I'm not going anywhere (other countries/state as a holiday break) I really should do something that I had wanted to do. 🙂
"God, grant me the serenity to accept the things I can't change, the courage to change the things I can, the wisdom to know the difference."
24-27-30
I wonder how old I wld be when the next finds itself on me. From the mind to the body.
thanks for coming by.
Be Blessed
Love,
Amanda
p/s: did I mention I'm doing dental braces, next? 😀 sure am thankful I am fit n strong, not weak and dainty.