Adaptors… Adaptors… Adaptors…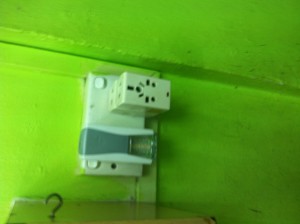 That is obviously a photo taken in Singapore.
But I realize, you see that plug thingy on the right. Its more than just an adaptor, its more like an extension to people like this shop owner and even people in my household.
We don't use it to so much convert a different countries' plug to a local plug, *okay, we do the 3-pin to 2-pin thing, but erm..
hmm… i brought the suited-for-Indonesia adaptor over, but guess what, my kettle and hairdryer cause the electricity supply to trip. So damn tripped that its not just within the apartment, the electric supply was "cut off" from the mains itself. :/
anyway. 🙂 I'm glad I have the resources to pick up the necessary appliances locally. 🙂
thanks for coming by
Be Bless
Love,
Amanda