Jakarta's traffic is bad…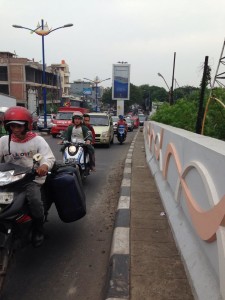 😀 I bet this isn't the first time you've heard of this.
I'm in the north, so its not so bad actually. Its bad usually in the centre and south.
This entry isn't exactly about bad traffic, though the picture above illustrates that little bit of it.
SO! 😀 I went to the mall nearby for grocery shopping. Usually its a mini-bus ride and then a cab ride back home.
I have heard of colleagues walking to and fro, like for the 7 months past at least already. But no, Amanda aint gonna do that, because the exhaust fumes and sun exposure. 😀
My therapist (in SG) would probably murder me, I would not forgive myself (bcos the sun damage treatment for the face would cost me at least 300SGD per session).
So So, nope, I have not walked to or from that mall to my place.
Till that day… 😀
It was one of the weekends, I was on my proper walking shoes, a stroll down to my weekend restaurant for a weekend meal and after that a quick mini-bus ride over to the mall.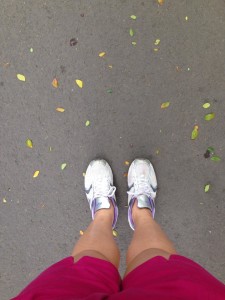 I brought my slippers along because I wanted to do manicure pedicure at the mall.
Did my grocery shopping in slippers and things went fine.
Until……… I got to the cashier. 😀 I didn't bring enough/extra money!!!!!
This usually don't happen. lol
I was just digging counting my notes and it was just nice. I don't even have like a spare 30cents to take the mini-bus back.
I thought of returning items so I could at least have a little change and get a ride.
But well… its Indonesia…. I DUNNO THE LANGUAGE……………….
*sulk….
SO all dishearten I thought to myself… okay… I'll just have to go withdraw and suffer the exchange rate + international withdrawal charge, which would be more than the amount I intend to withdraw.. like $5 for each transaction. and I have no interest in withdrawing more than $10. Cos I have cash left at home!
*sulk…….
and then there was the long queue…
My goodness…… why…………….. kenapa……………..
lol
then I got reminded…
Woman, you have walking shoes.
The weather is cloudy today,
You have your sunglasses,
You have your umbrella,
that route is closed (to cars) because of the bridge works nearby,
What is your problem.
So… I sat a little gingerly.. but still a little, yeah… maybe that will be a good option (as oppose to paying the withdrawal charge, joining the queue to draw money, joining the queue to find a cab, being stuck in traffic)…
But But… Im still not a fan of walking distances and on routes that I'm unsure, un-accompanied.
I put on my walking shoes and began the march.
Its not too bad..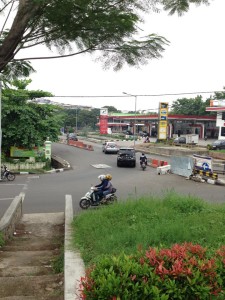 The mall is just after the petrol station.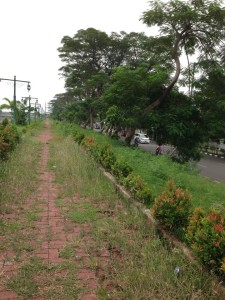 Was suppose to walk on the road, then I noticed there is a path. Oh… that will be good.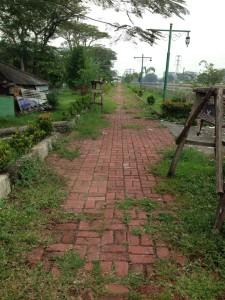 😀
okay, it was nice. abide the sun was behind the clouds, its was a little windy, I had good walking shoes, I had my shades and I didn't buy any perishable that wouldn't get through the stroll.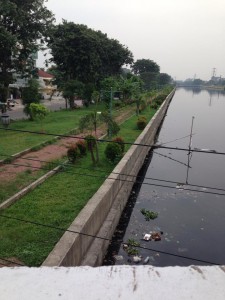 A river beside the path.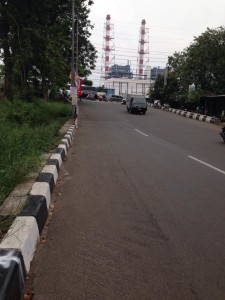 And finally, off the path, back onto the road, before the turn to the……….
traffic…….. macet……………. (oh thats the mini-bus by the way, the red mini-bus)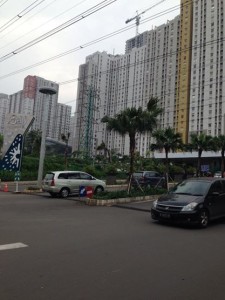 and finally… home sweet home.. 🙂
Guess its a good thing I went for pedicure before that. 😀 HA! and of course thank God for good weather.
thanks for coming by
Be Bless
Love,
Amanda