Talking about being sick, or in this case being a psychopath.
Was reading an article on knowledge magazine and lucky you it is available online.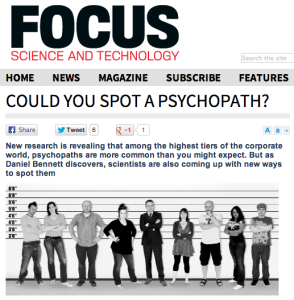 Source: http://sciencefocus.com/feature/psychology/could-you-spot-psychopath
While he tested their performance and overall potential, Babiak was permitted to use the Hare Psychopathy Checklist – the psychometric test typically used to assess whether criminals have psychopathic tendencies. Babiak discovered that out of the 203 people he tested, one in 25 of them were classified as psychopaths, despite having no criminal background. That's four times the number he would have expected to find in the general population.

When Hare took a closer look at the data, he discovered something else. "The company's in-house evaluations of these people often said stuff like 'this guy/gal is a team leader – innovative, bright, can be trusted, lights up the room when they step in, and so on,'" says Hare. "In fact, the higher they tended to score on the Psychopathy Checklist the better an impression people had of them.

"But when we measured their performance scores, by looking at how effective they were at furthering the company, they went right down as their checklist scores went up. In fact, when you get up at the high levels of the psychopathy scale, their performance was generally unacceptable. They should have been fired, but they weren't because they were viewed differently by the people – they were great at managing impressions."

…

They're also thought to control our inhibitions and our attention. So far it seems his scans back this up. Inside the MRI scanner, when an individual classed as a psychopath is asked to weigh up a serious moral dilemma – like whether they should divert an out-of-control tram to hit a bus full of schoolchildren or one headed to a retirement home – their brain doesn't seem to work as expected. Their amygdala – an almond-shaped brain segment that deals with raw emotions like fear and rage – should reel in horror at this hypothetical disaster. But the scans reveal that it remains relatively sedate in psychopaths. In fact, the more severe their psychopathy the less this part of the limbic system seems to react.

It doesn't seem to be just one isolated portion of the brain that's affected either. "The Orbito-Frontal Cortex (OFC) is supposed to attach emotional salience to fear stimuli," says Kiehl. "In other words, it helps make sense of the basic emotions formed by the amygdala. When the psychopaths were asked to rate moral violations, this circuit also demonstrated much lower levels of activity than non-psychopathic prisoners. Not only were they not picking up on the emotionally charged content, but their brains didn't seem to be equipped to attach meaning to it either."

The result of this faulty circuitry is that they either fail to empathise or understand an emotion in the first place, or don't know the appropriate way to react to it – something Kiehl has witnessed first hand.
Go read it, its pretty damn cool. 😉
Thanks for coming by
Be Bless
Love,
Amanda