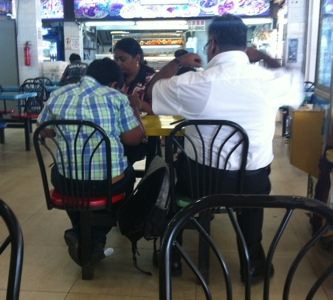 Was filled with positive thoughts about the young boy in checkers shirt when he first sat down w his plate f rice. I thought he was so independent, worthy of my praise.
Then he stood up and walked away. Came back w a set of steel cutlery.
Oh turns out he was using a plastic spoon initially.
Then he took off his bag and drop it on the floor. Drop literally not put.
and soon enough the plastic spoon landed on the floor as well. Quietly and as discreet as possible, right underneath the table where he sits.
Another young boy, a woman and a man came and sat at the table.
The woman scolded the boy regards the bag.
I wonder what will she do if she knew the boy dropped the spoon.
On my side, as a righteous public member I should have pick it up and place it on his table. (It's alright afterall to change the mind and wanted to use a steel spoon instead. Just leave it on the table, why do you litter?)
But it feels like if I do that I'm being a teacher again, correcting "student". Mind your own business Amanda.
But what is it? Lack of the right Parenting? Lack of education in school?
Or is it a blatant unawareness that everyone plays a part in keeping the environment clean?
And don't you dare tell me drop the spoon on the floor so the cleaner has a job to do. (Unless jokingly of course).
Thanks for coming by
Be Bless
Love,
Amanda